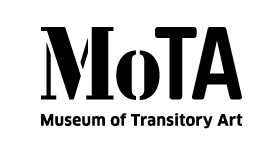 MoTA – Museum of Transitory Art
MoTA is a multidisciplinary platform dedicated to the research, production and presentation of Transitory, Experimental and Live Art forms.
As its name indicates, MoTA examines the ideas of:
museum - what is the role of the museum today and in the future,
transitoriness- in either space or time-
and art- what is art in relation to life.
MoTA is a museum without physical space. Its programs are realised in different locations and contexts,
both in physical and virtual space.
MoTA organizes support actions for transitory art in the form of continuous events,
exhibitions and educational programs both locally and internationally.
MoTA's program is happening throughout the year in cities across Europe and beyond.
It is conceived through an open and collaborative approach of international curators
and artists and is enriched with in depth research of its yearly theme.
MoTA's  approach to artistic production is collaboration.
With its methodology MoTA aims at over-coming social differences and exclusive modes of working.
MoTA is an artistic-curatorial initiative dealing with themes of contemporary system errors and their consequences (such as virtuality, alienation, loss of identity, hyper-mobility, sexual freedom, media and social violence of all kinds) and strategies to produce ideas, actions and reactions to these errors.
MoTA measures contact with public outside of artistic circles and discussion outside auto-refelective philosophies of artworks.
MoTA is in constant search for the new, the uncertain and the undefined.
—
MOTA is also the first regular artist-in-residency program in Slovenia, with the purpose to give a living and working environment to foreign artists in Ljubljana.
We understand our residency program as a platform for dialogue and collaborative work. Working closely with artists, researchers and curators, we aim to develop long-term and sustainable collaborations and engage with projects which mobilise art and other communities in order to produce new thoughts, actions and directions.
See some of our past residencies
here
.